A Trusted Partner to Help You Succeed
At IECUS Solutions, our ISO 9001:2015 certified quality system gives you the confidence you need to trust us with designing & manufacturing system solutions and components.
To learn more about our Quality Program…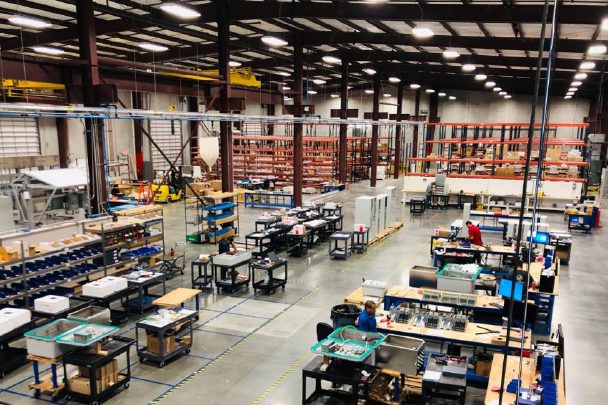 From our conveniently located U.​S.​-based 32,000 sq. ft. facility, we are qualified to meet the most demanding specifications when building to the relevant Standards of the IEC Zone 0, 1 & 2 system solutions.
We have made major investments in quality including:
New Purpose-Built Facility Based in Houston Texas
ISO 9001:2015 Approved
State of the Art ERP System
Lean Process-Driven Operation
Production & Warehouse Layout Organized for Workflow Efficiency & Team Interaction
On-site Engraving for Labels
5-ton Crane for Large Workloads
The Latest Machining Technology and Equipment to Deliver Premium Product Quality and Consistency
Competitive Pricing with Capacity to Fulfill New Orders
The modern CNC and rotary workholding technologies we use to consistently provide our customers with superior solutions include:
Integrated 4-Axis Rotary Platter
30+1 Tool Changer
Full-Function Haas CNC Machining Center
Wireless Intuitive Probing System
We complement our production facilities with 25,000 sq. ft. of production and warehouse space and 7,000 sq. ft. of office space to maximize our responsiveness to your needs.
To learn more…
Quality Definitions Index
ISO9001:2015
ISO 9001 is defined as the international standard that specifies requirements for a quality management system (QMS). Organizations use the standard to demonstrate the ability to consistently provide products and services that meet customer and regulatory requirements. It is the most popular standard in the ISO 9000 series and the only standard in the series to which organizations can certify. ISO 9001 was first published in 1987 by the International Organization for Standardization (ISO), an international agency composed of the national standards bodies of more than 160 countries. The current version of ISO 9001 was released in September 2015.
ASR
ASR (American Systems Registrar) is an international registrar headquartered in Grand Rapids, Michigan with offices throughout the world including the European Union, Middle East, Africa and Asia. ASR provides Management System audits and certifications for ISO 9001, IATF 16949, AS9100D, ISO 13485, ISO 45001, ISO 14001.
IECEx
IECEx is the IEC System for Certification to Standards Relating to Equipment for Use in Explosive Atmospheres. It uses quality assessment specifications that are based on International Standards prepared by the International Electrotechnical Commission (IEC). IECEx provides a means for manufacturers, regulators and users of equipment used in hazardous areas to address the risk of fires or explosions from flammable gases or dusts. Testing and certification of equipment, services and competence of persons to international standards facilitates the sale of safer products internationally at a lower cost.
QAR
It is a mandatory requirement for manufacturers of IECEx certified equipment to have a documented quality assurance system in place for their products. For IECEx this is called a Quality Assessment Report (QAR). The manufacturer must ensure compliance with all requirements in ISO/IEC 80074-34 and have an ISO 9001 compliant Quality Management System. However, as for ATEX QAN, an ISO 9001 certificate is not a mandatory requirement, but is recommended as it does simplify the process. As for an ATEX QAN, the IECEx QAR is issued with a three-year validity and published on www.iecex.com. A surveillance audit will take place within 18 months, or within 12 months if there is no ISO 9001 certification in place, with a re-assessment in order to renew the IECEx QAR 2-3 months prior to the expiry of the existing. If the manufacturer is applying for, or holds both an ATEX QAN and an IECEx QAR, both schemes will be audited and maintained jointly. The IECEx QAR audit scheme does not differ much from the ATEX QAN audit scheme. It is recommended that manufacturers consider the benefits of a combined IECEx and ATEX audit as a time-saving and cost effective option.
QAN
To enable the issue of an ATEX product certificate, the manufacturer must also hold a valid Quality Assurance Notification (QAN). The Quality Assurance Notification involves the continued monitoring of systems and processes in relation to those Ex products. It involves periodic audit of the manufacturing process by a qualified auditor. For ATEX certification, this is called a Quality Assurance Notification (QAN). The manufacturer must comply with the appropriate Annex(es) of the Directive (IV, V, VI, VII or IX) applicable dependant upon designation of your equipment (zone), whether you plan mass production or build a fixed number of units and whether you maintain an ISO 9001 compliant Quality Management System. This involves a site audit and typically covers a review of records and a check of the design specification of the equipment. The ATEX Quality Assurance is a mandatory requirement. A surveillance audit (typically one day) will take place approximately every 18 months, (12 months if ISO 9001 certification is not held) with a new ATEX QAN certificate issued every 3 years.
ABS
ABS (American Bureau of Shipping) provides classification, technical, and regulatory services for the marine industry. ABS develops safety rules, guides, standards and other criteria for the design, construction, and survey of marine vessels and structures including all materials, equipment and machinery. ABS certifies companies that provide services, such as measurements, tests, or maintenance, of safety systems and equipment. Additionally, ABS certifies individual materials, components, products and systems used on the vessels through a technical evaluation and survey of manufacturing compliance. ABS is comprised of surveyors, engineers, researchers and regulatory specialists. The rules, guides, and standards are developed by the International Association of Classification and by ABS staff, and they are approved by committees made up of naval architects, marine engineers, shipbuilders, engine builders, steel makers and by other individuals associated with the worldwide maritime industry.
DNV
DNV is an international accredited registrar and classification society headquartered in Høvik, Norway, providing services for several industries including maritime, oil & gas, renewable energy, electrification, food & beverage and healthcare. DNV is the world's largest classification society, providing services for 13,175 vessels and mobile offshore units (MOUs). It is also the largest technical consultancy and supervisory to the global renewable energy (particularly wind, wave, tidal and solar) and oil and gas industry — 65% of the world's offshore pipelines are designed and installed to DNV's technical standards.
UL
UL stands for Underwriter Laboratories and is a safety organization that sets industry-wide standards on new products. UL testing makes sure that wire sizes are correct or devices can handle the amount of current claimed. They also ensure that products are constructed correctly for the highest safety. UL authorizes a manufacturer to test product using the UL stamp. They then follow up on a regular basis to ensure manufacturers are testing their products and following proper guidelines. UL is broken down into three tiers: UL listed, UL recognized and UL classified.
CE
CE, a similar organization to UL, is based in the EU and sets standards for common electronics. CE stands for Comformité Européenne which is French for "European Conformity". CE is similar to UL, the main difference being the country in which it is manufactured and sold. Much like UL, CE gives companies an advantage by being able to sell anywhere within the EU, while also being able to market the CE logo in much the same way. For these reasons, many companies opt to get CE certified to expand their geograph reach.
EAC
Eurasian Conformity (EAC) certification demonstrates that products meet the Eurasian Economic Union (EAEU)'s regulations and standards for customs clearance and trading. An EAC mark is essential if one intends to sell consumer products and industrial equipment into the EAEU. It demonstrates compliance with health and safety legislation and allows companies to sell to consumers across Armenia, Belarus, Kazakhstan, Kyrgyzstan, and Russia. The EAC Mark is mandatory to obtain and affix on products to show its compliance to the EAEU standard.
TRCU
The Eurasian Customs Union (EACU) which consists of the member states of the Eurasian Economic Union came into existence on 1st January 2010 as the Customs Union of Belarus, Kazakhstan and Russia and was expanded in January 2015 to include Armenia and Kyrgyzstan. As of March 2015, all national legislation was harmonised into one set of regulations, applicable to all member states, superseding national schemes such as GOST-R, now required to be re-certified to TR CU. The Russian TR CU certificate issued by authorized certification bodies, signifies that imported products comply with standards of the Customs Union's member countries as well as quality and safety requirements. This TR-CU certificate must be acquired and the EAC mark attached to the product before shipping to Russia.
GOST-R
The GOST certificate is the abbreviation of Gosstandard i.e. National Standard, a document attesting that a product conforms to Russian national standards (GOST R, GOST EN, GOST R IEC, GOST R ISO, ecc.). It may be obligatory or voluntary. The obligatory certificate is required in order to import and sell products in the Russian Federation.
INMETRO
INMETRO is the Brazilian National Institute of Metrology, Quality and Technology. In Brazil, equipment intended for use in Explosive Atmospheres requires mandatory third-party certification to confirm compliance with the relevant INMETRO administrative rule No. 179. DNV is an accredited certification body under the INMETRO scheme and able to certify all types of equipment for use in Explosive Atmospheres. The relevant legislation for Explosive Atmospheres Equipment is Portaria INMETRO / MDIC number 179 from 2010/05/18. The Portaria are the implementing regulations within Brazilian law and INMETRO is the government department responsible for standardisation and authorisation of certification bodies. Certification of equipment destined for the Brazilian market is commonly referred to as 'INMETRO certification.'
ATEX
ATEX stands for atmosphères explosibles. It's a European Union directive from the European Committee for Standardization that covers "equipment and protective systems intended for use in potentially explosive atmospheres." An atmosphere can be explosive for several reasons, including flammable gases, mists or vapors, or combustible dust. All equipment and protective systems intended for this type of use in the EU must meet ATEX health and safety requirements. In this way, the directive is similar to an OSHA or NEC standard in the United States. Equipment manufacturers whose products are intended to be used in Europe are responsible for making sure their equipment complies with ATEX standards. This process involves conformity assessment procedures and certification by a third party called a "Notified Body."
CENELEC
CENELEC (French: Comité Européen de Normalisation Électrotechnique; English: European Committee for Electrotechnical Standardization) is responsible for European standardization in the area of electrical engineering. Together with ETSI (telecommunications) and CEN (other technical areas), it forms the European system for technical standardization. Standards harmonised by these agencies are regularly adopted in many countries outside Europe which follow European technical standards. Although CENELEC works closely with the European Union, it is not an EU institution. Nevertheless, its standards are "EN" EU (and EEA) standards, thanks to EU Regulation 1025/2012.
CSA
The CSA Group (formerly the Canadian Standards Association; CSA) is a standards organization which develops standards in 57 areas. CSA publishes standards in print and electronic form and provides training and advisory services. CSA is composed of representatives from industry, government, and consumer groups. CSA is accredited by the Standards Council of Canada, a crown corporation which promotes voluntary standardization in Canada.This accreditation verifies that CSA is competent to carry out standards development and certification functions, and is based on internationally recognised criteria and procedures. The CSA registered mark shows that a product has been independently tested and certified to meet recognized standards for safety or performance.
Intertek
Intertek is an OSHA (Occupational Safety & Health Administration) recognized NRTL (Nationally Recognized Testing Laboratory) and is accredited as a Testing Organization and Certification Body by the Standards Council of Canada. The ETL Mark is proof of product compliance to North American safety standards. Authorities Having Jurisdiction(AHJs) and code officials across the US and Canada accept the ETL Listed Mark as proof of product compliance to published industry standards.
LCIE
Founded in 1888, Bureau Veritas LCIE in France is the preferred compliance partner for the commercialization and recovery of electrical and electronic products. Bureau Veritas LCIE supports manufacturers from the development phase to the market launch: testing, certification, audits, inspections, and training. After verifying the compliance of products with the applicable standards, Bureau Veritas LCIE provides the necessary passports to serve new markets. A well-known certifier in Europe and a worldwide leader of bilateral recognition agreements with global counterparts, Bureau Veritas LCIE facilitates the access to international markets.